Share this episode!
Podcast: Play in new window | Download
Subscribe: Apple Podcasts | Android | RSS | More
During the week or so preceding this episode I was inundated with a plethora of truly phenomenal music.  A good problem to have, no?  The solution was to forego the DJ Mongo Presents segment and deliver a two-hour version of The EDM Hour.  Enjoy!
EDM Hour x2: House Mix, Techno & Dubstep, DNB, Dubstep
---
---
Set 1: House Mix
| Title | Artist | Release | Label | Genre | BPM | Year | Time |
| --- | --- | --- | --- | --- | --- | --- | --- |
| Measures | Nostalgia 77 and The Monster | Measures/Island In The Sun | Tru Thoughts Records | Jazz | 118.31 | 2015 | 04:16 |
| Fairter | Michal Lewicki | Ton | Project Mooncircle | Electronica | 120.00 | 2015 | 03:46 |
| Dual State | Tony S. | Interim Funk | Lovely Records | Deep House | 123.00 | 2015 | 06:16 |
| I Wanna Know (feat. Eli & Fur) | Clancy, Eli & Fur | Anjunadeep 06 Unmixed & DJ Ready | Anjunadeep | Deep House | 122.00 | 2015 | 07:00 |
| Click Search (Jody Wisternoff Remix) | Jody Wisternoff & Danalog | Anjunadeep In Miami 2015 | Anjunadeep | Deep House | 120.00 | 2015 | 07:20 |
| Kaleidoscope (Latency Remix) | Latency & Pax | Kaleidoscope | Great Stuff Recordings | House | 123.00 | 2015 | 05:57 |
1. "Measures" by Nostalgia 77 and The Monster from
Measures/Island In The Sun

out on Tru Thoughts Records.
This week I had to record the voiceover for the podcast before I did my research for show notes.  I mentioned that I was bummed that there wasn't a full album out by Nostalgia 77 and The Monster.  When I did my research I discovered that in fact there is a full album out, from which "Measures/Island in the Sun" is but a single. Here's a review of the album by Thom Jurek for Allmusic.com:
Conceptualist, producer, engineer, and composer Ben Lamdin (aka Nostalgia '77) has had a hell of a year in 2014. Not only did he issue the fine A Journey Too Far, which showcased the bluesy, psychedelic pop side of of his persona (thanks in no small part to the gorgeous vocals of Josa Peit), but he collaborated with engineer Prince Fatty (Mike Pelanconi) on a dubwise remix of his back catalog. Lamdin also produced Jamie Cullum's deservedly celebrated Blue Note debut, Interlude. His final entry for the year is the sophomore studio collaboration with the Monster — his live jazz band. This set follows in the footsteps of the unit's excellent 2012 offering, The Taxidermist. While there are some personnel changes here, it's worth noting that the Monster is a slimmed down version of the Nostalgia '77 Octet, which ceased performing after original drummer Graham Fox died. All of these players — bassist/arranger Riaan Vosloo, pianist Kit Downes, reed and wind player James Allsopp, trumpeter Fulvio Sigurta, and drummer Tim Giles — have long been part of Lamdin's collaborative stable. Measures is a more diverse offering than The Taxidermist. The approach here is to showcase as many different dynamic aspects of creative jazz as possible, within original compositions and covers, from uptempo fingerpoppers to more moody material. Stylistically the music runs the gamut. There are wonderful, Latin-tinged modal workouts such as the title track, as well as the meditative, Brazilian-influenced "Archipelago" — the latter with glorious flute work from Allsop. Then there's the celebratory groove in "Scallywag," which offers hints of influences from Albert Ayler and Pharoah Sanders to the Clarke-Boland Sextet. Also, stacked back-to back are a pair of great covers: a fantastic read of Keith Tippett's classic "Thoughts to Geoff" with a wonderful solo from Sigurta and an impressionistic responses from Downes, and a restrained space pop version Sun Ra's exotica-tinged "Islands in the Sun" with its lyric line firmly entrenched throughout. "Rules" is a slow-grooving, spiritual soul-jazz tune that sends the album out on a contemplative vibe. Measures is as lovely as it is solid. Its selection and presentation are airy, with the lighter compositions perfectly balanced in gray shades by more aggressive (yet no less elegant) ones. Throughout, the ensemble and solo playing are excellent, and matched by the tunes. Given the diversity of what these players do together album to album, as evidenced here, this unit has evolved to one of near greatness.
2. "Fairter" by Michal Lewicki from
Ton

on Project Mooncircle.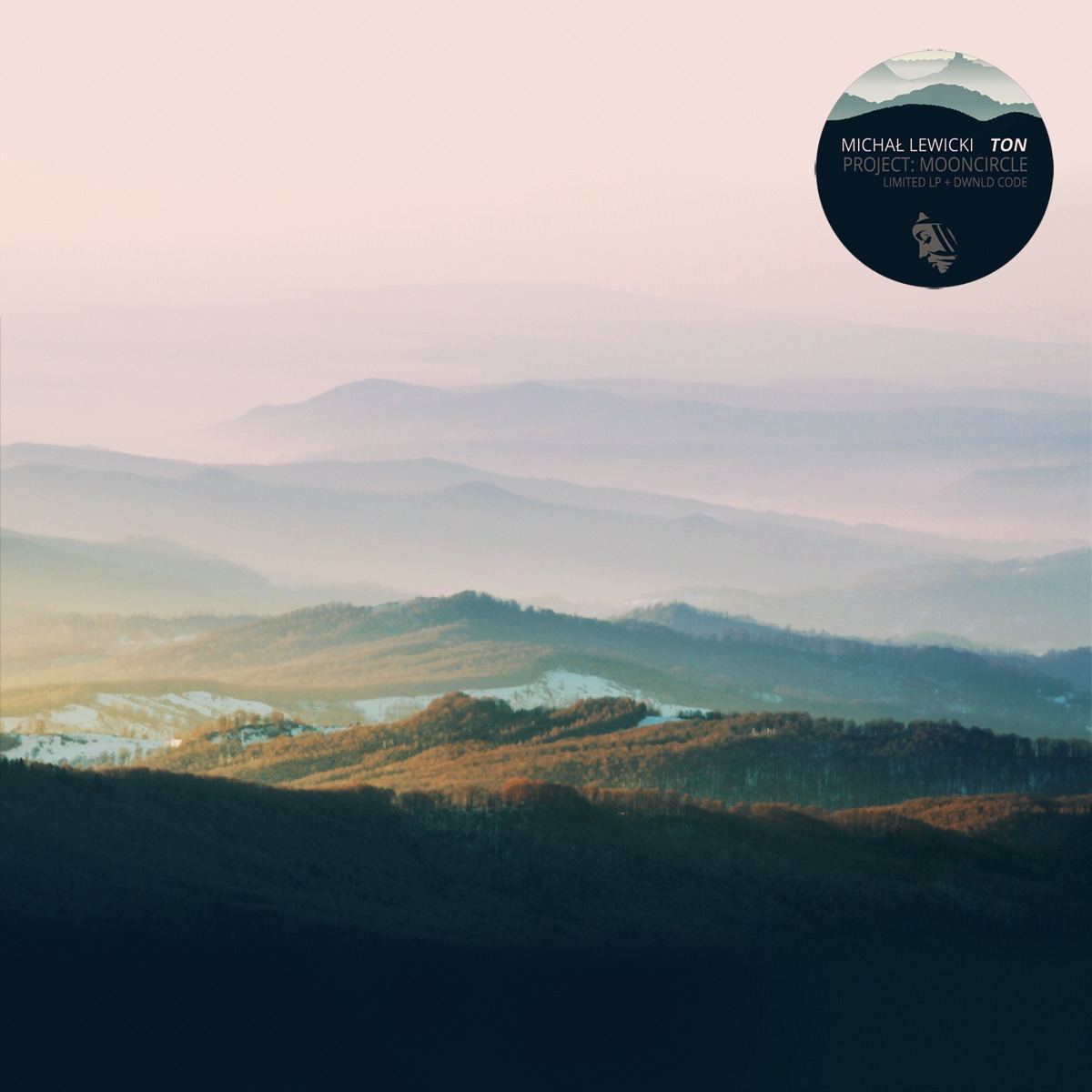 Released on March 3, 2015, Ton appears to be the freshman release by Polish producer, Michal Lewicki.  Here's what his label, Project Mooncircle says about the release:
Immensely inspired by the beautiful simplicity embodied by the laws of nature, especially the number Pi and the notion of the golden ratio, Michał Lewicki has always been searching for new ways to implement mathematics into his music. But aiming for the perfect proportions while making the music feel natural and complex at the same time has been no easy feat. In the creation of "Ton" he applied a very technical approach, utilizing various random midi generators, midi delays, polyrhythms, pitch shifters, scales and more in order to create something that posseses a life on its own, bringing him as close as possible to a naturally occurring chaos we can find in the surrounding nature every day.

"One of the basic rules of aesthetics – man's senses enjoy objects that are properly proportioned. He referred to the direct relationship between beauty and mathematics, which is often measurable and can be found in nature." – R. Fisher on philosopher St. Thomas Aquinas

After painstakingly accurate and detailed editing of these generators, they would create something unique and different upon every single run. The result are unique non-recurring snapshots as foundation for most tracks, a quasi-mathematical experiment in audio-randomization. Now Michal really started his work, creating arrangements and progressions based on the simple sines and natural convolution, giving the track dynamics, adding layers of synths and instrumentation.
3. "Dual State" by Tony S. from
Interim Funk

on Lovely Records.
I'm a musician and producer based in North London releasing house music under the name of Tony S. I've had original tracks and remixes released on labels including Savoir Faire Musique, Soul Industries, Deep Site Recordings and UM Records, with more to come on other labels. I like to play out whenever I can and have played at various venues in London and beyond. I'd love to hear your thoughts and feedback on my music.
— From Tony_S's profile on Soundcloud.
4. "I Wanna Know feat. Eli & Fur" by Clancy, Eli & Fur from
Anjunadeep 06 Unmixed & DJ Ready

out on Anjunadeep.
Here's an interesting interview with Clancy on Fabricate's website.
Eli & Fur, both 23, have been making music together since college.Living in London and friends since the age of 16 they have both been passionate about music from a young age. Eli has been singing, playing guitar and writing songs since she was 12 while Fur grew up fixated on art and design whilst listening to a whole spectrum of pop, dance and house music.

Eli & Fur, both 23, have been making music together since college.Living in London and friends since the age of 16 they have both been passionate about music from a young age. Eli has been singing, playing guitar and writing songs since she was 12 while Fur grew up fixated on art and design whilst listening to a whole spectrum of pop, dance and house music.

Over the years both girls became obsessed with creating melodies and lyrics together, writing, playing and programming their own tracks, drawing from both their musical influences and experiences.

After college, the DJing side of their musical path also began to take shape. Their sets are influenced by a wide range of electronic club music, from old school Chicago classics to contemporary house and tech house. Working without an agent the girls have chased all and any opportunities for DJ slots, managing to get their hands on a selection of great gigs in and around London and as far a field as Tokyo and Los Angeles. Also appearing at Glade and Glastonbury last summer.
5. "Click Search (Jody Wisternoff Remix)" by Jody Wisternoff & Danalog from
Anjunadeep In Miami 2015

on Anjunadeep.
He may no longer be the "precocious" teen who cracked the music industry, but Jody Wisternoff is still not afraid to push the boundaries or test his own limits. His fearless attitude has seen him go from a 16-year-old playing his first club gig to controlling the crowd at the Universe rave, preaching his musical sermon to an adoring congregation of 5,000 people. "[That] was incredible and pretty much the catalyst for me dropping out of college," Jody says of his first taste of rocking a stadium show.

Although now putting the finishing touches to his long awaited debut solo album, it was back in 1986 that Wisternoff first put his stamp on the music world aged just 13 when he reached the finals of the DMC World DJ Championship and then 2 years later as one-half of Tru Funk, a hip hop/dance outfit with his younger brother Sam, who is now performing under the name SJ Esau.

After those days of innocence and his first forays in to music, Wisternoff became an unknowing pioneer in the rave scene as a member of Sub Love (with DJ Die) and Way Out West, his beloved tag team with Nick Warren. "[The] Sub Love days were fun because I was so young and the rave scene was in full swing," he says with admiration and a certain sense of nostalgia. For hardened fans of dance music, who remember fondly the opening salvo Montana, it may be a little scary to think it's been 18 years since Way Out West first emerged. The milestone isn't lost on Jody either. "The early 90s rave era in the UK was unbelievable and was on a crazy scale. Pretty much all the young people in the country were into it. The pop charts' top 10 was all dance music. [It's] amazing if you think about it now."Fast forward to the present day though and despite having four successful albums under his belt as Way Out West, Wisternoff shows no signs of complacency. He is constantly evolving his sound with new tracks and showcasing fresh and experimental electronic music on his Frisky and Proton Radio shows every month. He has released solo singles on Ministry of Sound, Anjunadeep and Disitnctive, with which he achieved the much coveted 'Beatport Number 1' with his track 'Cold Drink, Hot Girl'. Wisternoff spends much time touring all over the world, especially in Eastern Europe, calling it one of his "strongest territories right now….[but] it's an issue of juggling family life with music at the moment, as I have two kids now," he tells us, living what he calls "a really nice balanced life," things have come full circle for this cheeky kid.
Digital musician Daniel Lobel, otherwise known as Danalog, has been tinkering with beats and noises since the tender age of 13.

Now 30 , he's producing a finely crafted fusion of House, Techno & all things electronic that's all a blend as unique as Danalog himself.Born in Israel, raised in Zimbabwe, and now based in Cape Town, Danalog pulls on his diverse roots to carve a sound portfolio that touches on all different moods and atmospheres, from the dark and trippy to euphoric and uplifting, Adding his dose of magic with a fine attention to detail…

He says: "My style and moods change from track to track, all depending on what I'm feeling at the time."  As a DJ for the last 10 years, Danalog is no stranger to whomping dancefloors, and has played all the mega SA festivals including; Earthdance, Alien Safari, Rezonance, Origin Festival, and Fu-Cha (JHB). He also throws down regular nights at some of Cape Town's hottest clubs and events.Plug in to this mysterious maestro for production that is as crisp, as it is off-the-wall, Revel in his quirky grooves, bouncy basslines and chunky percussion. With a solid motto of 'innovate don't imitate', you can expect big things from Danalog; from more banging releases and dancefloors to dominate.
6. "Kaleidoscope (Latency Remix)" by Latency & Pax from
Kaleidoscope

out on Great Stuff Recordings.
On remixes duty is Latency another rising star from Great Britain. Latency preserves the original energy, while tailoring a more club oriented outfit. An old school garage-like bassline makes complete sense here. It gives "Kaleidoscope" that extra amount of bounce. The carefully crafted breakdowns are the icing on the cake and will close the deal in Latency's favor.
PAX are DJ and production duo Aaron Taylor and Charlie Robinson.

Formed on a mutual love of house, techno and conspiracy theories, they have quickly secured showcase productions on famed labels such as Great Stuff, Clarisse, Nurvous, MEXA, Natura Viva and Fukai.

They also have a monthly radio show (Paradigm) on the unbelievably stacked Le Chic FM, where their show is in the company of the likes of industry titans Get Physical, Poker Flat, Suara and many more.

They met whilst completing a masters degree in music production wizardry (it wasn't actually a degree, but that sounds much more impressive) either way they both left with distinction! Or was it disgrace? It was definitely one or the other.

In previous lives Aaron was an ancient astronaut who lived above the Nazca lines , and Charlie a Tibetan monk who specialised in astral projection.

Aaron has previously DJ'd on the terrace at Space in Ibiza (before the roof was put on) and has produced tracks for various Cafe Del Mar albums. Charlie has DJ'd for high powered Illuminati members at Eskimo frat parties. OK, only one of them is true, and it's not the one about Ibiza.

In the coming year their goal is to continue hassling labels and kidnapping A&R's to showcase their music, find the meaning of life via ayahuasca ceremonies in Peru (That would be Charlie) crack the source code of simulation theory (or rather ramble about it every time they turn the monitors off) But more importantly than all of that, to take PAX on the road.
---
Set 2: Techno & Dubstep
| Title | Artist | Release | Label | Genre | BPM | Year | Time |
| --- | --- | --- | --- | --- | --- | --- | --- |
| My Addiction | Frezel | My Addiction | Jannowitz Records | Techno | 125.00 | 2015 | 06:43 |
| Forbidden Voices | Martin Garrix | unreleased | white label | Progressive House | 128.00 | 2015 | 03:50 |
| Saharan Sunset | Ian O'Donovan | Saharan Sunset EP | KMS Records | Techno | 126.00 | 2015 | 09:45 |
| Constant | Biome | Biome on Deep Heads | Deep Heads | Dubstep | 135.00 | 2015 | 05:22 |
| Island In The Sun | Nostalgia 77 and The Monster | Measures/Island In The Sun | Tru Thoughts Records | Jazz | 126.88 | 2015 | 03:19 |
| Only You | Meramek & Tropixx | Anjunadeep 06 Unmixed & DJ Ready | Anjunabeats | Deep House | 123.00 | 2015 | 06:16 |
| Nemesis | Adam Rickfors | Voids II EP | Cr2 Records | Progressive House | 128.00 | 2015 | 05:19 |
 1. "My Addiction" by Frezel out on Jannowitz Records.
I am a producer using Ableton Live to create Melodic Techno. My music has a typical spacy vibe supported by a heavy bass.
https://soundcloud.com/frezel
2. "Forbidden Voices (Original Mix)" by Martin Garrix, an unreleased white label work in progress (final version released on Spinnin' Records).
Martin Garrix may not be a superhero or a secret agent, but he does possess two identities.
A 17-year-old student by day, but when the sun goes down he can be found behind the decks in front of packed hotspots and festivals across the globe, fraternizing with electronic dance music royalty, tirelessly producing in the studio, and dropping records.

You probably know him for his monster hit 'Animals', that reached the #1 position in several countries worldwide including Holland, Belgium and England, as well as Top 5 in Australia, France, Spain, and Germany.


Following up the success of "Animals", his remix of Dimitri Vegas, Like Mike and Sander van Doorn's "Project T" got supported by the biggest DJs around, after which his track 'Wizard' with Jay Hardway ascended #1 on Beatport, making it the youngest artists ever to reach the top spot on Beatport.com's Main Chart.


"I want to show everyone that if you pursue your dreams, they can come true no matter what. That's what I want to do."

Martin Garrix may just be a superhero after all.
3. "Saharan Sunset" by Ian O'Donovan from the
Saharan Sunset EP

out on KMS Records.
Since bursting onto the scene in 2010 with huge support from the likes of Laurent Garnier, John Digweed and Dave Clarke, Ireland's Ian O'Donovan has gone on to achieve great feats as an artist. Ian has forged a unique style within the techno scene, blending a touch of the past with his melodic sound and moulding it into place with top level production.

His tracks have found homes on iconic imprints such as Kevin Saunderson's KMS in Detroit, John Digweed's burgeoning Bedrock Records, Christian Smith's Tronic and Sasha's Last Night on Earth label.

Ian has reworked classics like Inner City's 'Good Life' and collaborated with legends like John Digweed along with a string of top solo releases, which have won favour with industry titans like Richie Hawtin and Carl Cox.

After standout early releases on Detone and KMS, 2015 sees Ian O'Donovan's stock once more on the rise, fuelled further by the signing of inimitable techno cut 'Vortex' to Adam Beyer's global phenomenon Drumcode Records; an indication that this timeless producer is only now entering his stride. With an arsenal of dance-floor weapons developed over a decade by his side, Ian is committed to bringing his dj sets to the world, taking music lovers on an intricate journey both into the artist's mind and to a place of musical inspiration.
4. "Constant" by Biome from
Biome On Deep Heads

out on Deep Heads.
There's a lot of talent in Manchester that tends to get overlooked, but it's a testament to the city's apparently inherent passion for music that this acts less as a barrier than as a hurdle that needs to be crossed at its highest point. Biome is a producer representative of this approach in that there is nothing rushed about his work and he only seems happy if what people are hearing from is something that he can call fully-formed. After first breaking into dubstep with the sort of big kicks and dark mid-range found on tunes like 'Sonic' he has honed his sound to something genuinely original and he's now reaping the rewards of his patience and getting regular plays from some of the biggest names on the circuit. By considering the importance of the mid-range of a tune alongside the bassline and still keeping in mind the idea of space, Biome builds that ever-elusive sense of darkness into his beats whilst maintaining the energy within them that is necessary to get people moving on a dancefloor. (hedmuk)
5. "Island In The Sun" by Nostalgia 77 and The Monster from
Measures/Island In The Sun

out on Tru Thoughts Records.
See my entry for Nostalgia '77 in Set 1
6. "Only You" by Meramek & Tropixx from
Anjunadeep 06 Unmixed & DJ Ready

out on Anjunabeats.
Premiered by Danny Howard on BBC Radio 1.

Building on the brilliant reception to his debut "Feeling EP" late last year and his fiery remixes of Lancelot and Prides, Meramek aka Oliver Smith dials up the bass on this classy new EP.

A collaboration with Tropixx, "Only You" is a heady blend of emotive pads and an infectious vocal hook, which, when paired with the serious low-end, packs a massive punch. A stand out moment on our recent "Anjunadeep 06" compilation.
— From Anjunadeep's Soundcloud Page
Oliver Smith has been described as "an excellent DJ" by Armin van Buuren, "the best thing to happen in trance" by Mixmag and "sensational" by DJ Magazine. In recent years the highly successful UK-based DJ and dance music producer has released scores of records and has performed in some of the biggest clubs in the world.Oliver's forward thinking music is regularly played by leading DJs such as Above & Beyond, Armin van Buuren, Tiesto, Myon & Shane54, and Paul van Dyk. He is one of the most established and best regarded Anjunabeats artists and is the only producer (other than label bosses Above & Beyond) to have featured on every single one of the 10 Anjunabeats Volume compilations to date. His sophisticated, deep and melodic sound is loved by fans globally. Oliver has also been highly successful with his remixes for the likes of Arty, Mat Zo, Andrew Bayer, Maor Levi and Above & Beyond – all featuring on leading radio and club play lists and flying high in the Beatport charts.

As a DJ, Oliver has played at legendary UK super clubs such as Ministry of Sound, Godskitchen, Matter, and Passion; and at far flung locations worldwide such as America, India and Singapore. He also regularly features on international radio shows and is a resident presenter of Anjunabeats Worldwide.
— From Oliver Smith's Facebook Page.

7. "Nemesis" by Adam Rickfors from the
Voids II EP

out on Cr2 Records.
Adam was born in Stockholm, Sweden in 1986. His interest for music started already at the age of 9, when he started to play the drums. Two years later, "The Prodigy" released their album "The Fat of the Land", and that was the start of Adam's electronic music addiction. Growing up listening to artists like: The Prodigy, Daft Punk, Fatboy Slim, The Chemical Brothers, inspired Adam to explore the world of music production.
Many years later, Adam signed his first record deal. Since then, he has done it all: from underground releases to producing/writing for other artists, even remixing some of the biggest names in the music industry, everything from "Backstreet Boys – In A World Like This" to a remix for the "Pirates of the Caribbean 4" official soundtrack.
Adam's track "Colors feat. Marylin" got released in 2013, climbed the charts in the USA, and constantly played on radio stations world wide.
His tracks have peaked the Beatport Top 10 Progressive House chart and can be found on the playlists of DJ's such as Tiesto, Swanky Tunes, Steve Aoki, Joachim Garraud, Axwell & Ingrosso or Matisse & Sadko just to name a few. Adam has released on labels such as Steve Aoki's "Dim Mak", Nettwerk's "Nettrax" imprint and EMI. Recently Adam released his new EP "Voids" on CR2 Records, that got massive support and great feedback. 2015 is going to be a great year for Adam, with so many new releases and great collaborations. 
---
Set 3: DNB
| Title | Artist | Release | Label | Genre | BPM | Year | Time |
| --- | --- | --- | --- | --- | --- | --- | --- |
| Ring The Alarm | Vandera | Make Believe EP | Fokuz Recordings | Drum & Bass | 175.66 | 2015 | 05:55 |
| Serenity | Biome | Biome on Deep Heads | Deep Heads | Dubstep | 175.00 | 2015 | 05:39 |
| Leaving | Hybrid Minds | Drum&BassArena Summer Selection 2012 | Drum&BassArena | Drum & Bass | 175.00 | 2012 | 05:12 |
| Heartbreak 2014 | Notixx | Last Call | Dub Police Records | Dubstep | 175.00 | 2015 | 04:56 |
| The Calling (feat. Ivy Main) | Rene Lavice, Ivy Main | The Calling/Freudian | RAM Records | Drum & Bass | 177.66 | 2015 | 04:55 |
| Revolution | Dimension | Drum&BassArena Summer Selection 2012 | Drum&BassArena | Drum & Bass | 174.00 | 2012 | 04:57 |
1. "Ring The Alarm" by Vandera from the
Make Believe EP

out on Fokuz Recordings.
When Vandera is not scanning brains in a shady hospital somewhere in London UK, the Dutch veteran DJ/producer is composing deep rolling Dubstep and Drum 'n Bass.

Vandera has dubstep tracks out on record labels such as Echodub, Forecast, Subdepth, and Stoke Audio, while his DnB alter ego produces liquid jazzy tunes like "Fallen Angel" & "Is It Real". He's permanently stamped his sound on Bass music, with beats encompassing the whole spectrum; From Future Garage 2-step beats to deep Dubstep, and from complex amen breaks to 4×4 rave. Catch him DJ in clubs around the world, spinning all styles of dubstep.

You can hear Vandera is influenced by mid 90's atmospheric Drum & Bass, old skool Hip Hop, and all forms of house. All his songs are characterised by one single most important element,..
— Vandera on ResidentAdvisor.net.

2. "Serenity" by Biome from
Biome On Deep Heads

out on Deep Heads.
See my entry on Biome in Set 2 above.
3. "Leaving" by Hybrid Minds from
Drum&BassArena Summer Selection 2012

out on Drum&BassArena.
Comprising of Josh White & Matt Lowe, Hybrid Minds represent a new musical force with their melodic, soulful Drum and Bass already making waves. A synergy between influences including trip-hop, acoustic, soul and RnB, Hybrid Minds draw on a myriad of influences to produce the smooth sound they are now known for.

Although an innovative force in Liquid Drum and Bass, Matt & Josh are no strangers to bass music & had ran a record label together for many years which focused on the more dancefloor orientated side of the genre.

However, after drifting towards the more melodic side of Drum and Bass, They decided to use their talent to make some smoother collaborations. After only a few joint efforts, Hybrid Minds immediately shot to the forefront of the Liquid scene, with many household names playing tracks from the newly formed duo. Their method of bouncing ideas off each other in the studio yielded immediate results with one of their first tracks 'The Place', becoming one of the biggest tracks of 2011. This track features some of the elements that now make up Hybrid Minds' distinctive, soulful sound.

Since then, this fresh new two piece have gone from strength to strength, with their smooth, melodic brand of Liquid gaining them releases on some of the most respected labels on the scene. After huge hits including the stunning Lost EP on Audioporn which received over half a million views on UKF, the follow up Heartfelt EP on Austrian label Mainframe, a remix for Jakwob's 'Blinding' and a string of singles on Spearhead, Allsorts and Fokuz, Hybrid Minds have become synonymous with the best Liquid DnB.
4. "Heartbreak 2014" by Notixx from
Last Call

out on Dub Police Records.
Notixx is the collaborative musical conscience of two young Western New Yorkers. Ryan Sinatra and Zack Fowler began as "Notixx & Doodle" during their early emergence into the electronic music world. It wasn't until after their first hosted event in Jamestown New York that they decide to join together under the name "Notixx".

They now work together in the studio to crank out tunes that keep you dancing and BASS SMASHERS that only leave you wanting more. Their fluid transitions and masterful live effects create unique live electronic shows that always impress, perplex and capture the audience. They have built up local and international notoriety, collaborating with multiple talented electronic artists, as well as performing live to electronic music fans, Notixx is becoming more and more recognized each day as a prominent force in todays bass culture.
5. "The Calling (feat. Ivy Mairi)" by Rene Lavice & Ivy Mairi from
The Calling/Freudian

on RAM Records.
Share this episode!